Park Guell Free Zone
Park Güell is spread over a massive 19 hectares with 1.7 hectares of the core area of the park demarcated as a restricted area. Visiting the main monumental zone of the park requires you to buy a ticket, however, the rest of the park can be explored for free. The free zone has plenty of pathways to explore and beautiful vantage points enjoy the views of Barcelona City.
Explore the Free Zone
Pathways And Viaducts
Gaudi designed Park Güell with the idea of merging it with the natural surroundings and hilly topography. To achieve this, he laid down an intricate network of paths, bridges, and viaducts throughout the property. The three viaducts that glide up the mountain in succession are called Pont de Baix, the Pont del Mig, and the Pont de Dalt. These examples of ingenious structural engineering are supported by columns and vaults made of sketchy stones that were found on site.

In addition to these major pathways, Gaudi also built a web of small pathways and shortcuts that were meant for people on foot. Walk on one of these to experience the charm of this 19th Century park.
Three Cross Hill
The Three Cross Hill is the highest viewpoint in Park Guell and offers beautiful views of the city of Barcelona. Getting to the top will require some effort, as there is steep stairway to climb, but the breathtaking views at the top of the hill make the journey well worth the effort.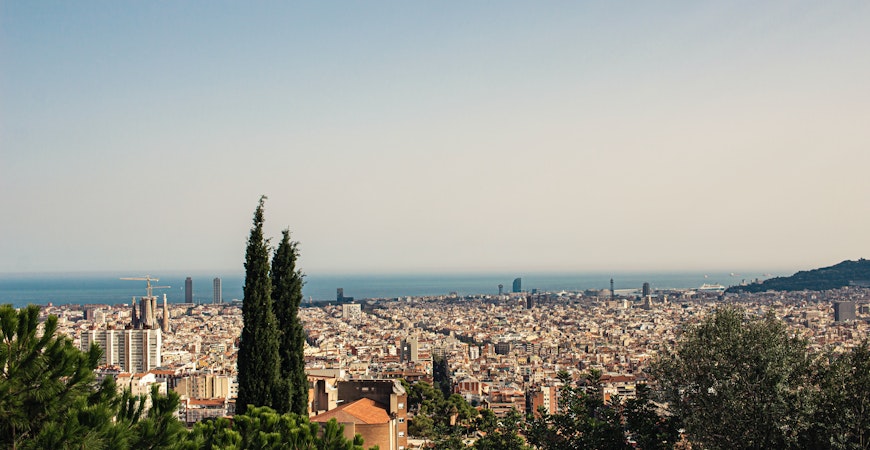 Gaudi House Museum
One of the original homes in the park, Gaudi House Museum is now a collection of the fabled architect's life and work. To enter the museum, you'll need to buy a separate ticket from the Park Guell website since the regular tour does not cover the museum.