The History of Park Guell - Antoni Gaudi's Modernisme Masterpiece
Located on Carmel Hill in Barcelona's Gracia district, Park Guell is one of the most popular attractions in Barcelona. Originally conceived as a private residential area for affluent Catalan families, Park Güell is the work of world renowned architect Antoni Gaudí who let his imagination go wild on the gardens and architectural elements of this park. His use of natural forms shaped into covered walkways, galleries and archways beautifully camouflage the artificial structures into the surrounding Mediterranean hillside. A designated UNESCO World Heritage Site, Park Güell is now one of the most enchanting gardens of the world and captivates thousands of tourists every day.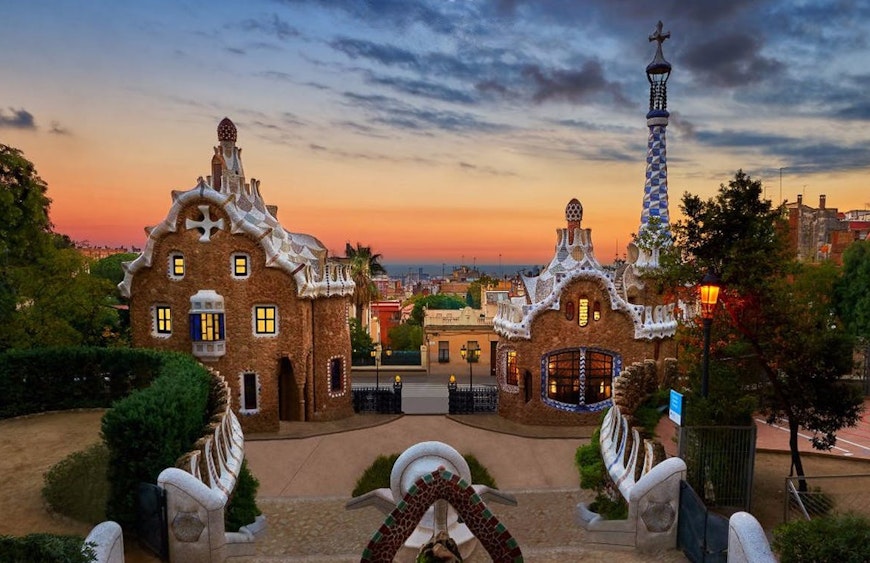 Knowledge Graph
Also Known As: Parc Güell (Catalan)
Location: Carmel Hill, Gracia, Barcelona
Established: 1914
Architect: Antoni Gaudi
Architectural style: Modernisme
Number of visitors per year: 12 million
UNESCO World Heritage Site designation: 1984
History Of Park Guell
The story of the park starts when Eusebi Güell acquired a large property in the region known as the Muntanya Pelada (bare mountain) and assigned Gaudí the task of drawing up plans for an estate for well-off Catalan families. The estate was a beautiful one, settled amongst nature and overlooking the city of Barcelona and the sea.

Work started in 1900 and by 1903, an article published in the Anuari de l'Associació d'Arquitectes (Association of Architects Year Book) noted that the two entrance pavilions, the main stairway, the outer enclosure, the viaducts and part of the great esplanade had been constructed. Gaudí moved into his house (now the Gaudí Museum) in 1906 and the following year, Eusebi Güell converted the old mansion (Casa Larrard), that was already there when he bought the site, into his usual residence.The Hypostyle Room was also finished by 1907, given that public events were already being held in the great square above it. The tiled bench that runs around the square was completed in 1914.

However, the complex lease contracts of the plots, lack of an appropriate transport system and the highly exclusive design of the buildings resulted in a lack of buyers, with only two of the sixty houses having been built. The construction work was brought to a halt in 1914 and the park was converted into a large private garden. This garden started appearing in Barcelona tourist guides which Güell allowed to be used for public events. This marked the beginning of Park Güell as a major attraction in Barcelona. After Eusebi Güell died in 1918, the park was offered to the City Council by his descendants and opened as a municipal park in 1926.

The Güell family house was converted by the Municipality into a school while Gaudí's house was opened to the public as Gaudí House Museum in 1963. The glory of the park finally culminated in 1984 when it was declared a UNESCO World Heritage Site.